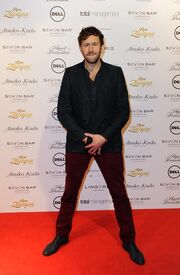 Chris O'Dowd
is an Irish actor and comedian. He voices
Grub
in
Epic
.
O'Dowd appeared in the 2010 film Dinner for Schmucks, an American version of a French farce called Le Dîner de Cons. He also appeared on panel show Never Mind the Buzzcocks, and starred in an ITV2 comedy series entitled FM. In 2010, O'Dowd took part in Little Crackers, writing and directing a short film loosely based on his own childhood and Christmas in his family home from 1984 to 1988. In April 2011, he starred in the BBC adaptation of The Crimson Petal and the White as William Rackham and appeared in the May 2011 release Bridesmaids as Officer Nathan Rhodes.
O'Dowd has been announced as a cast member in the Knocked Up sequel This Is 40. He based his character on people in Hoxton who "wear skinny jeans and hate the world, which comes from an inability to deal with women."[12] He described "fighting over Megan Fox in a pool" during filming as "one of the most fun things I've ever done".
O'Dowd recently wrapped production on Wayne Blair's debut feature, Australian musical The Sapphires. The musical powerhouse, based on a popular stage show, was shot across Australia and Vietnam and produced by Goalpost Australia. He is to write and executive produce a new American comedy series called Big Men., after NBC won the bidding war for it.[18] He co-wrote a series based on his childhood called Moone Boy for Sky One. Segments of the series, which will be aired on Sky 1 in June, were filmed in his hometown of Boyle. Chris O'Dowd did an ad for male breast cancer. He also does voice-over for adverts for Now TV.