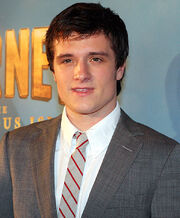 Josh Hutcherson
(born October 12, 1992) is an American film and television actor. He voices
Nod
in
Epic
.
Hutcherson's first role was in the 2002 pilot episode, House Blend; in the same year, he appeared in an episode of ER. In 2003, he played the lead role in the comedy Miracle Dogs (released on Animal Planet); starred opposite Peter Falk and Timothy Daly in the made-for-television film, Wilder Days; and had a minor role in the well-reviewed independent film, American Splendor. He performed for the motion-capture imagery in 2004's The Polar Express.
In 2005, Hutcherson appeared in several Hollywood films: he had a minor role in the Will Ferrell comedy Kicking & Screaming, voiced Markl in the animated film Howl's Moving Castle (June), and played the lead roles in Little Manhattan and Zathura, which was released in November to positive reviews. The following year, Hutcherson appeared in the comedy RV, playing the son of Robin Williams' character. Hutcherson subsequently played Jesse Aarons in the drama Bridge to Terabithia, which was filmed in New Zealand and released on February 16, 2007, performing well critically and commercially. He had not read the novel that the film is based on before being cast in the role.
Hutcherson's next role was in Firehouse Dog, in which he played Shane Fahey, a firefighter's son who befriends a dog. Hutcherson filmed Firehouse Dog before Bridge to Terabithia, though the latter film was released first. He next appeared in the independent drama Winged Creatures[11] and the science fiction adventure Journey to the Center of the Earth,[7] a new 3D version of the novel of the same name. Filming on Journey, which was released on July 11, 2008, began in Montreal in June 2006 and ended in October of that year. Hutcherson also appeared in a film adaptation of the book Cirque Du Freak.
In 2010, he had a supporting role in the critically acclaimed movie The Kids Are All Right, playing Laser. Hutcherson has said that he would like to appear in every type of film genre. On April 4, 2011, Lionsgate announced that Hutcherson had been cast as Peeta Mellark in the 2012 film, The Hunger Games. He appeared in the 2012 Red Dawn remake.